FLUXSET&copy magnetometer mounted on a non-magnetic theodolite with radio link
Most widely used D/I flux theodolites for absolute observations have two separate units connected to each-other with cable. This solution is inconvenient and the instrument can be effected by external electromagnetic disturbances. The problem can be avoided if the magnetometer electronics is together or is close to the sensor and the magnetometer is connected to the display unit via radio link. The final goal of our project is to develop a semi-automatic instrument and procedure to carry out absolute observations.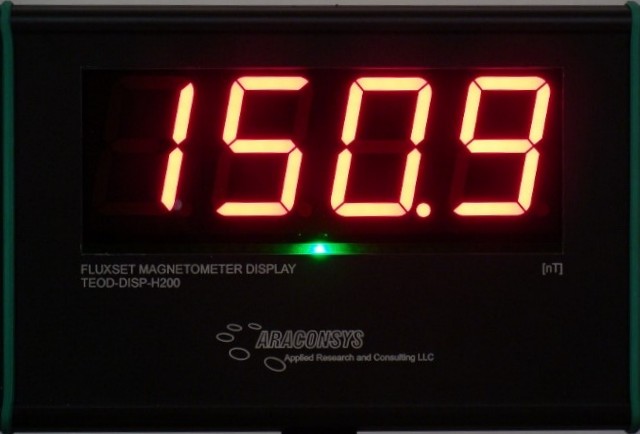 Simple construction and low power consumption of FLUXSET magnetometer allows to put it together with a battery into a small box and place everything on the telescope of the theodolite. This way it moves together with the sensor during the whole measurement procedure. Any possible small magnetic moment will be cancelled by this method.
The display unit and the magnetometer are connected via radio link and they can be placed to enough distance not to disturb the measurement. Measured data are transmitted to the display unit by a radio transmitter.
Display unit in addition to the large scale numbers has a LED bar display too. It indicates the operation of radio connection, the output signal level with sign when we are out of the measurement range. In order to decrease the power consumption the display has automatic luminosity control. Battery power is well enough for a whole day operation. To increase measurement accuracy the display unit is equipped with a GPS wich gives a precise time stamp to the data. They are stored in a memory by remote command. At the end of measurement process the memory content can be uploaded to the processing computer via USB connection.
Angle readings have to be entered manually to the computer but a digital encoder and radio transmission of angle data is under development.
Instrument charging needs 10 to 18 V DC or 100 to 240 V AC for convenient observatory and field use.
Theodolite
type:
Zeiss THEO 010/020
Magnetometer
operating range:
+/- 6 uT
measuring range:
+/- 200 nT
resolution:
0.1 nT
offset error:
+/- 1 nT
adjustable
Display unit
characters:
54 mm (3.5 digit+sign)
radio link:
2
4 GHz
working range:
> 15 m
operating time:
> 12 hr
charging time:
~ 8 hr